:::
Anchor
Tainan Shan-Shang Garden and Old Waterworks Museum(臺南山上花園水道博物館)
玩樂攻略
Come Marvel at the Secret Fort Lying in the Mountains with a Huge Blue Gate
Taste Waterworks Smoothies and Enjoy Performances And Markets

Mecca for Photographers with 14 Huge Filtering Pipes

Art Installations, Featured Works of the Yuguang Island Art Festival

Plant Garden Plaza, Playground, Children's Playground

Introduce
The sound of children's laughter rises and falls along with the splashing of water, a canvas with a background of verdant green earth, splashed with golden sunlight and full of colorful flowers. Walk deep into the garden, and red brick houses start to appear. With their gray and black sloping roofs, the buildings open their doors to welcome visitors. After experiencing the joy of the outside world, come into the tranquil space inside and enjoy learning about the history of the waterworks.
The Land Art That Welcomes Visitors
The art garden, dense forest area, succulent plants, and all kinds of lovely ecological forms that are scattered in the garden square is a key feature highlight that welcomes visitors to the Tainan Shan-Shang Garden and Old Waterworks Museum. In the middle of the plaza is the Hatta pond, where children can be seen enjoying some water fun. Several art installations were relocated from Yuguang Island, and their colorful and diverse forms attract visitors to take photos.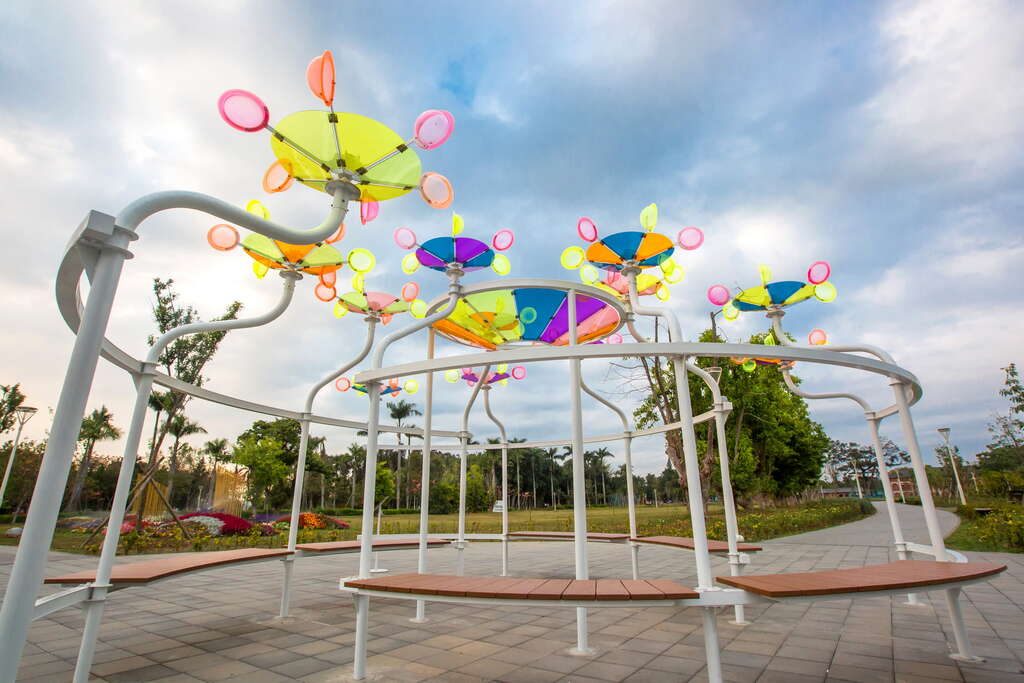 Immerse in the Historical Vestiges of the Waterway
Following the signage in the shape of a water pipe, visitors follow the garden path to several red brick houses, where, instead of the bustle of the square, they enter a quiet hall of knowledge. The halls are decorated with pump motors and water filtration structures, along the window sills are dusty bottles and jars filled with equipment and diagrams. For more in-depth waterworks knowledge, the museum uses interactive walls of light and shadow installations to allow visitors a new refreshing way to engage with history.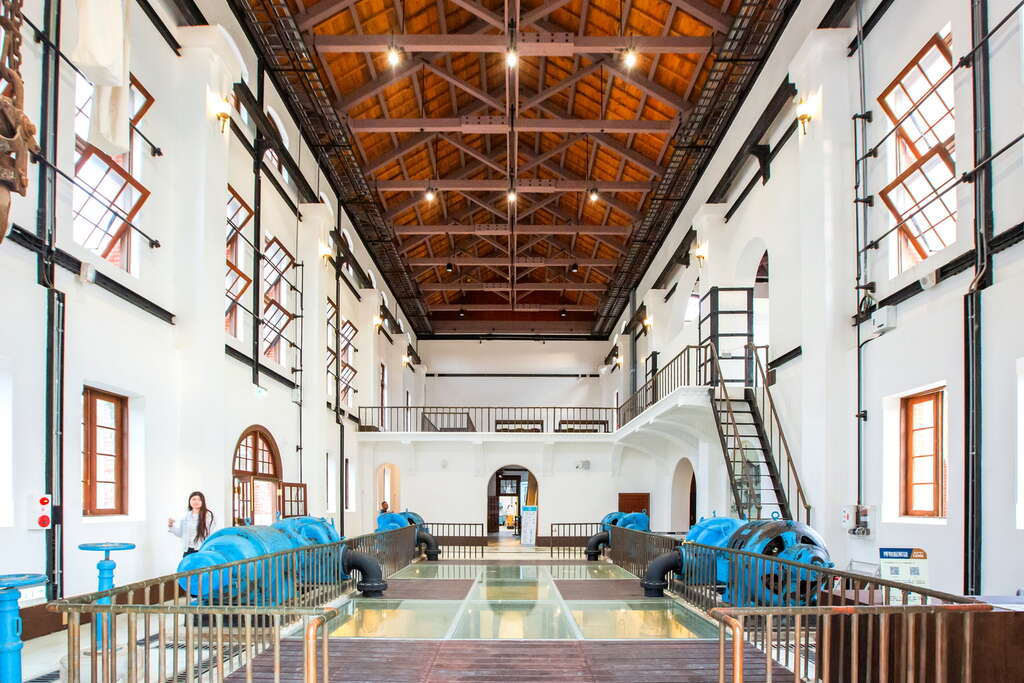 The Blue Temple of Solitude

About a three-minute drive across from the museum is the Purification Water Pond. Visitors will have to climb up a number of stone steps to enjoy the view from the top. There is no imposing and majestic castle, nor are there any elaborate decorations. Standing humbly here is a low walled bunker made of gray and white bricks, with green moss and erosion water marks from its age, and a blue wooden door that contrasts with its unremarkable history, which is serenely beautiful and attractive in its contrast. The cherry blossoms that bloom every year close to the Purification Water Pond are also one of the main attractions for visitors.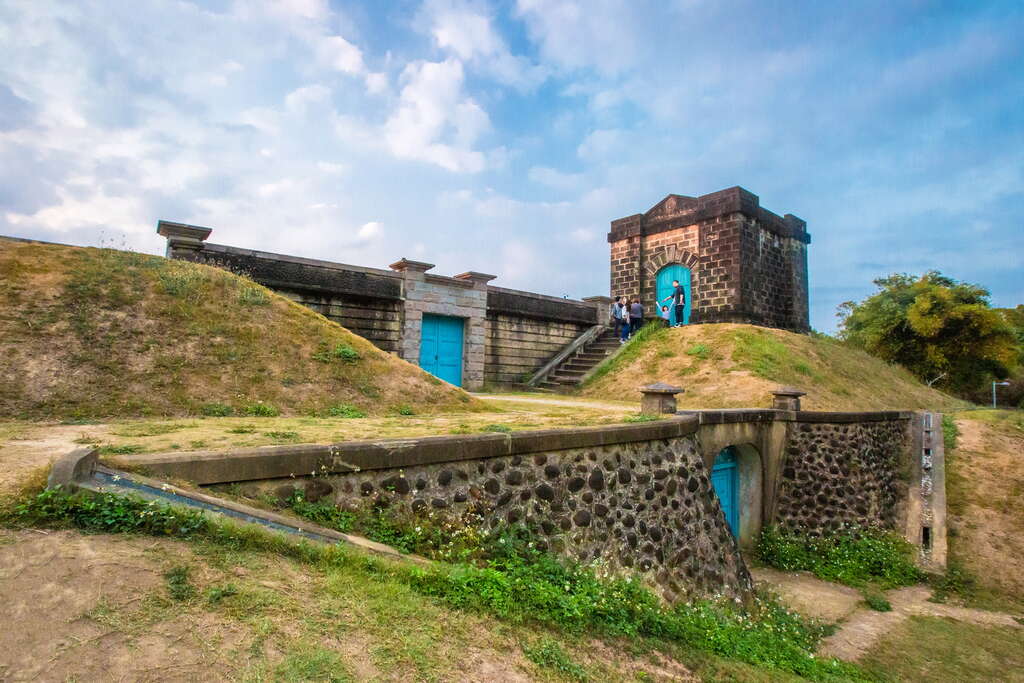 Information
TEL +886-6-5781900
FAX +886-6-5782909
Address No. 16, Shanshang Village, Shanshang Dist., Tainan City Taiwán, R.O.C
Category Historic Sites、Eco-Tour、Local Gallery、Handicapped Access
Open Hours Sunday:09:30 – 17:30
Monday:09:30 – 17:30
Tuesday:09:30 – 17:30
Wednesday:Break time
Thursday:09:30 – 17:30
Friday:09:30 – 17:30
Saturday:09:30 – 17:30

Charge ▴ Museum Area
Full admission: Foreign residents and foreign visitors
Half-price admission: Tainan residents, students, and citizens over 65 years old
Free of charge: Tainan City residents domiciles in Shanshang District, citizens over 70 years old and under 6 years old, physically and mentally handicapped handbook holders and one accompanying person, volunteer honor card holders, etc.
Purification Water Pond Area:
Free of charge for all visitors
Offical Site Offical Site
Links Facebook Fans
Parking
▴ There are two parking lots on either side of the park entrance.
The East Parking Lot can accommodate 108 passenger cars and 22 motorcycles.
The West Parking Lot can accommodate 10 large buses, 25 small passenger cars, and 93 motorcycles.
▴ Temporary parking lot.
The parking lot is located 500 meters from the park, next to the City Road 178, with a capacity to accommodate about 90 cars.