:::
Anchor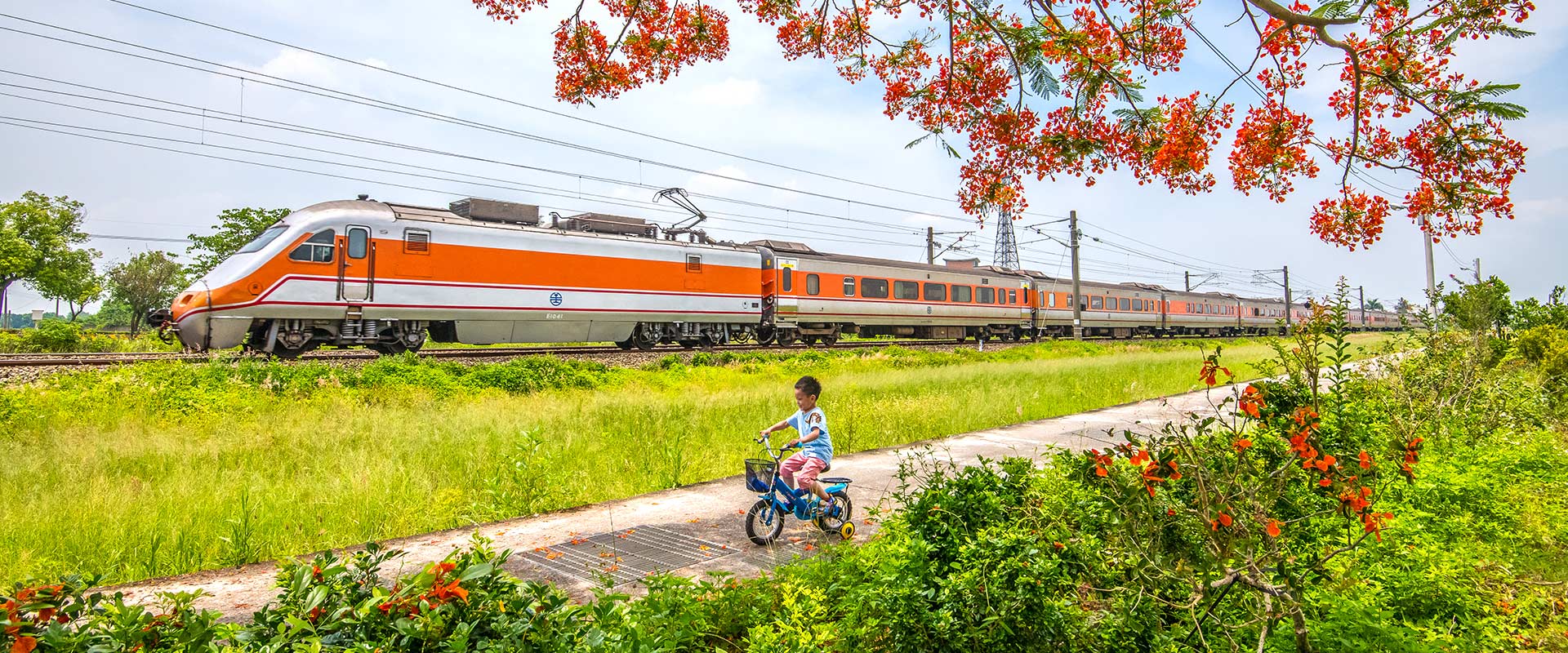 Tainan's transportation
Tainan is a city rich in history and culture. If you are planning a trip to Tainan, you may choose to fly or take the High-Speed Rail, Taiwan Rail and coach bus to Tainan, and while in the City, you may ride a bicycle, take a bus or rent a scooter to travel through the streets and alleys to experience charm of Fucheng (the Capital City).
How to get to Tainan?
Set off from Taipei

If your flight lands at Songshan International Airport, you may take the MRT to Taipei Main Station and transfer to any of the three types of transportation to reach Tainan, with the coach bus being the most economical, while High-Speed Rail is the most expensive.

Transit Route:

THSR Taipei Station→THSR Tainan Station, takes about 1 h and 50 min.
Taipei Main Station→Tainan Railway Station, takes about 3 h.
Taipei to Tainan by Bus, takes about 4 h and 30 min.

Set off from Taoyuan

If your flight lands at Taoyuan International Airport, the most convenient way is to take Taoyuan Airport MRT to THSR Taoyuan Station, and transfer to a High-Speed Rail to THSR Tainan Station, and finally a local train to Tainan Railway Station (downtown).

Transit Route:

Taoyuan International Airport→THSR Taoyuan Station→THSR Tainan Station→Tainan Railway Station (the shortest transit time is approx. 3 h)

Set off from Kaohsiung

If your flight lands at Kaohsiung International Airport, the best option is to take Route 111 (Tainan Express), which will bring you directly to Tainan City.

Transit Route:

Kaohsiung International Airport→Tainan Bus Station (the shortest transit time is approx. 70 min)
More about modes of transportation to Tainan
City Transportation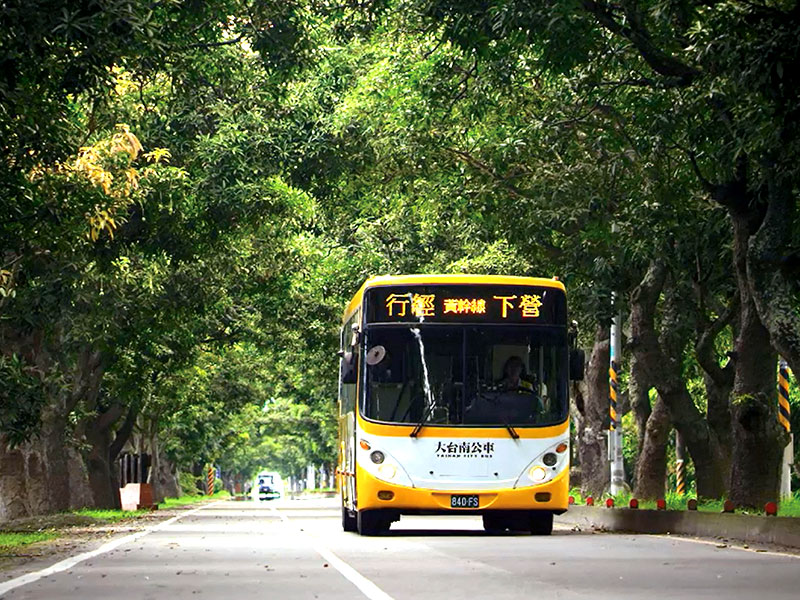 City Bus
Tainan has an extensive bus network serving many stops. It has 6 main lines, city buses, sightseeing buses and THSR Shuttle Bus. It is an affordable mode of transportation that runs very frequently, and is therefore suitable for travelers who plan their own itineraries.
Driving

There are many rental shops near the THSR Tainan Station and Tainan Railway Station for visitors to rent scooters and cars. If you only intend to visit downtown attractions such as Anping Old Street and Chikan Tower, you may want to rent a scooter as it has higher mobility; and if you wish to visit further attractions such as Guanziling hot spring and Yujing, driving a car would be preferable.

By Taxi

Tainan's taxis usually queue at railway stations, High-Speed Rail stations and entrances of departmental stores; hence, it is easier to flag a taxi in the downtown area. As most taxi drivers are unable to converse fluently in English, Japanese or Korean, you might want to ask the hotel staff or your Taiwanese friends to write down the address of your destination in Chinese and show it to the driver. If you need any foreign language service, you may refer to the following link.
Tour by Sightseeing Bus
Besides city buses, there are also sightseeing buses that serve various routes; they include: Tainan Sightseeing Bus, Taiwan Tourist Shuttle, Taiwan Tour Bus, etc. With a combo ticket, you can visit all the attractions. To save you the hassle of planning, hopping onto a sightseeing bus may be a good idea.
Tainan Sightseeing Bus

Tainan Sightseeing Bus stops at major historic sites and provides audio guide service in English, Japanese and Korean. Visitors can also take Tainan City Bus for free with the same day's ticket.

Taiwan Tour Bus

Taiwan Tour Bus offers various types of half-day and one-day package tours. The tours are accompanied by a guide, who will introduce Tainan's attractions and history to the passengers.
Taiwan Tourist Shuttle
Taiwan Tourist Shuttle is a convenient tourist bus for touring in Taiwan. Visitors simply need to tap with their EasyCard or iPASS when boarding and alighting. Tainan currently offers 5 tour routes for visitors to choose from.
61

The West Coast Expressway

The route brings visitors to experience the culture of Tainan's salt industry. Its stops include coastal attractions such as Qigu Salt Mountain, Jingzaijiao Salt Field as well as Chiayi Budai Harbor.

88

Tainan Tour Route

The route goes round downtown Tainan City and takes passengers to popular attractions such as the Confucius Temple, Hayashi Department Store, Chikan Tower in an efficient manner.

99

Anping to Taijiang Route

The route starts from Tainan Railway Station and takes passengers to attractions such as Hayashi Department Store, Anping Old Fort, Sihcao Eco-Culture Area and Qigu Salt Mountain; it is suitable for visitors who wish to tour Tainan's historic sites and coastal area.

33

Guanzihling route

This route links Tainan's two well-known attractions, Guanziling and Chiayi Southern Branch of the National Palace Museum. It also stops at the home of lotus, Baihe District, where visitors can visit the hot spring in Guanziling and experience the fun of farming in Baihe.

Mountain Line & Museum Route (Holiday Route)

The route links Tainan's areas near the mountains and museums and stops at attractions such as Tainan Shan-Shang Garden and Old Waterworks Museum, Tainan Zuojhen Fossil Park and Tainan Astronomical Education Area. Visitors may take this route for an intellectual mountain area tour.

Ling Po-Guantian Line (Holiday Route)

The bus departs from Xinying Station, passes through Xincheng Railway Station, and connects with Guantian District, Liuying District, Xinhua Street, Xincheng District and Siraya National Scenic Area. It is a sightseeing route showcasing the beauty of lakes and mountains, leisure and entertainment experiences, and exploration of the humanities!