:::
Anchor
Tainan Fun Trip, The old Capital of Nostalgic feeling (Chapter of Transportation)
Introduce
Where is the first city in Taiwan?It is not Taipei, it's Tainan!Tainan is located in the south central part of Taiwan,With 1.9 million population, It is the 4th big city after Taipei¸ Kaohsiung and Taichung .Tainan was the core of international trade in the past, now benefited with well-developed traditional handicraft, agriculture, salt pan
Tainan has a lot rich men due to generation after generation of successive prosperity.Tainan city is established at nearly the end of Qing Dynasty.There are abundant traces of historical attractions, it is a city full of charm.
Now I would like to introduce how to reach Tainan from Taipei and the methods of traveling to Tainan .
---
1.High Speed Railroad (HSR)
It takes only 1 hour and 40 minutes from Taipei HSR station to arrive Tainan HSR station. And then from Tainan HSR station by bus transfer, that will take about 45 minutes to arrive Tainan Train Station at downtown area。Take note that the difference between Tainan and Taipei, the HSR station of Tainan and TRA Train Station are not in the same location.
Of course, you can also take a train to go to Tainan, however, there will be quite a few stops along the road, hence it will take about 3 and half, or 4 hours to arrive at Tainan from Taipei.

There are also other means of transportation to reach Tainan from Taipei,Otherwise, it is also possible to start from the HSR southern-most end station Kaohsiung Zouying HSR station to take a north bound train to Tainan 。It only takes about 30 minutes to arrive Tainan from Zouying HSR station.All the platforms in Taipei Train Station are underground.But prent note that the ticket gate of HSR and TRA Train are separated.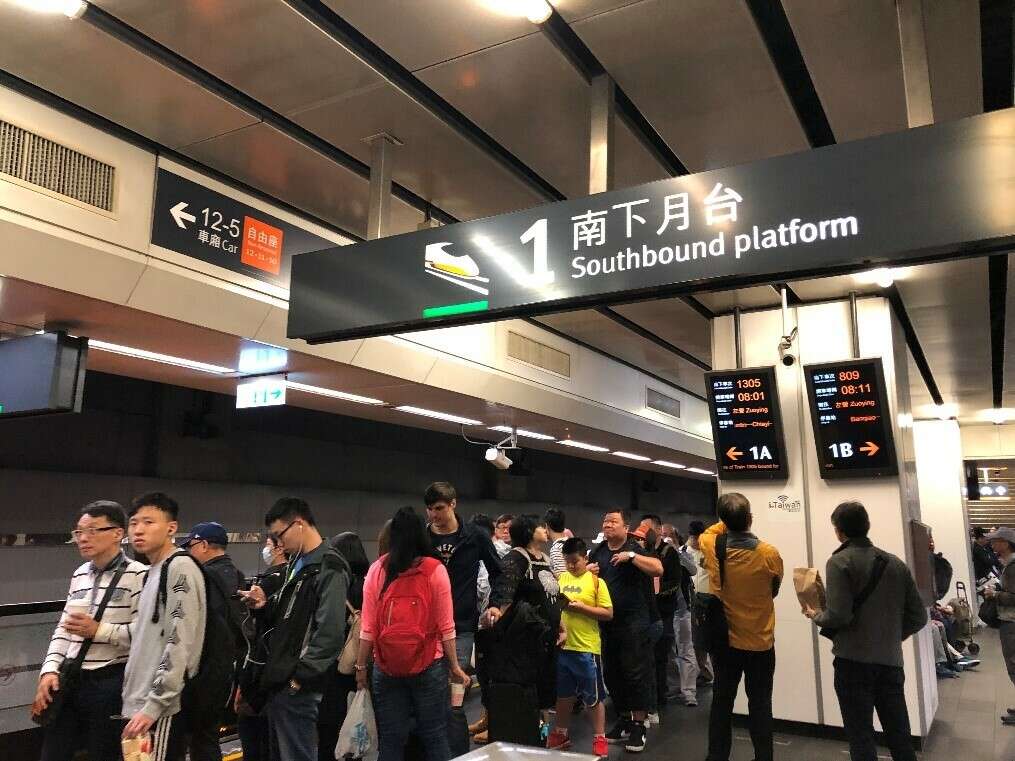 Taipei Train Station south bound No.1 platform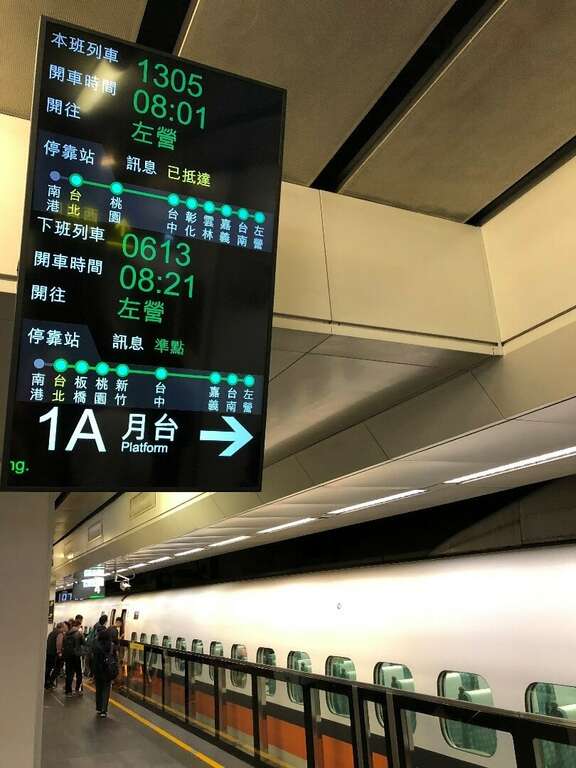 The south bound HSR train departing from Taipei
The space of HSR train is much wider and comfortable than KTX (Korea High Speed Rail) with the adjustable seat, it is very comfortable to ride on the HSR train.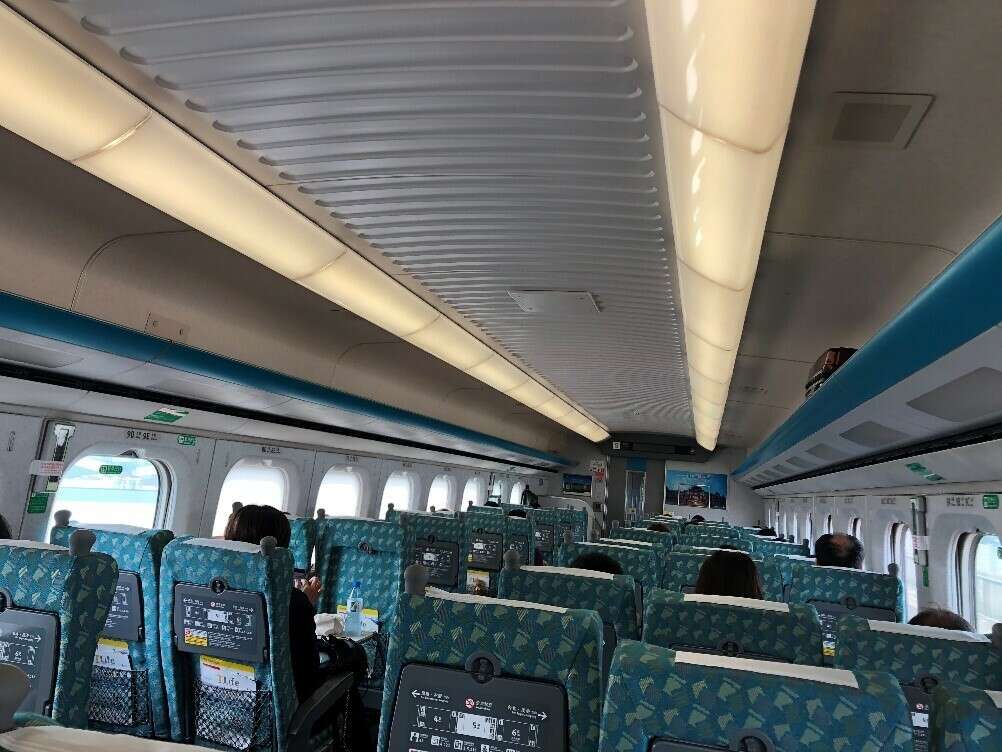 The in
terior
of the Taiwan HSR
train
Regretfully that there is not much food sold in the HSR train as you might imagine, therefore we suggest that you'd better buy some food or drinks before boarding the train.
The Tainan HSR station is on the ground level, if you walk up to the ticket gate on the 2nd level, you should be able to see the escalator that lead to the exit on the ground level.
After ride the escalator down to ground level, you can see a convenience store right in front of you. And the Visitors Center is located at the left-hand side of MOS Burger, that provide many travel guide pamphlets in Korean.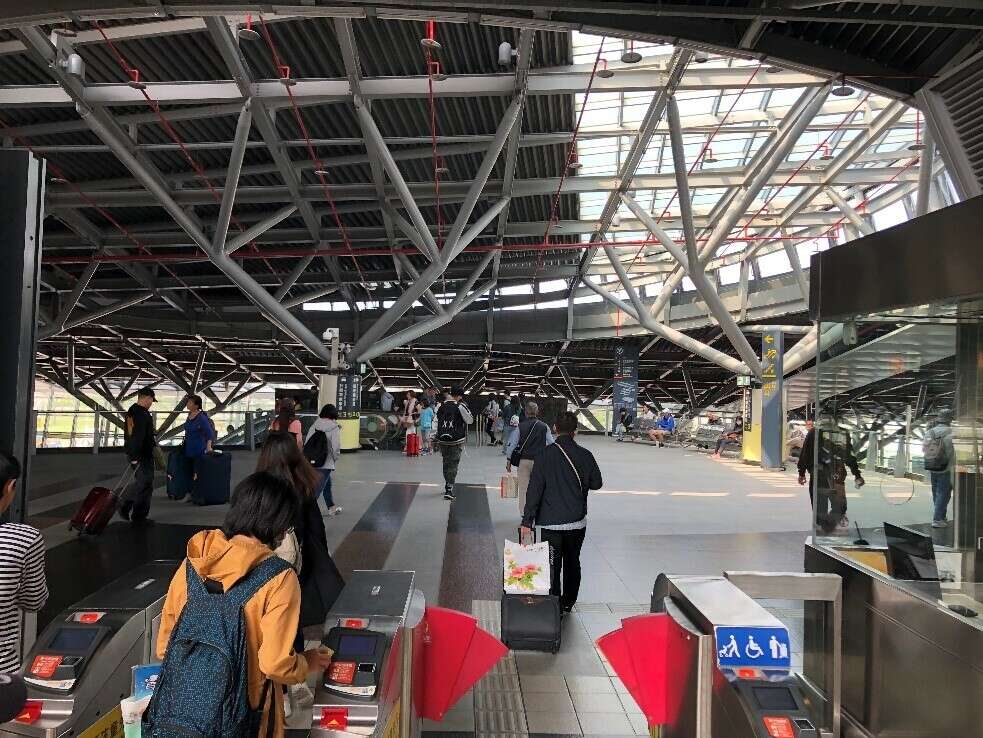 The ticket gate of Tainan HSR
station
From exit No. 2 of Tainan HSR station, you can see the free shuttle bus stop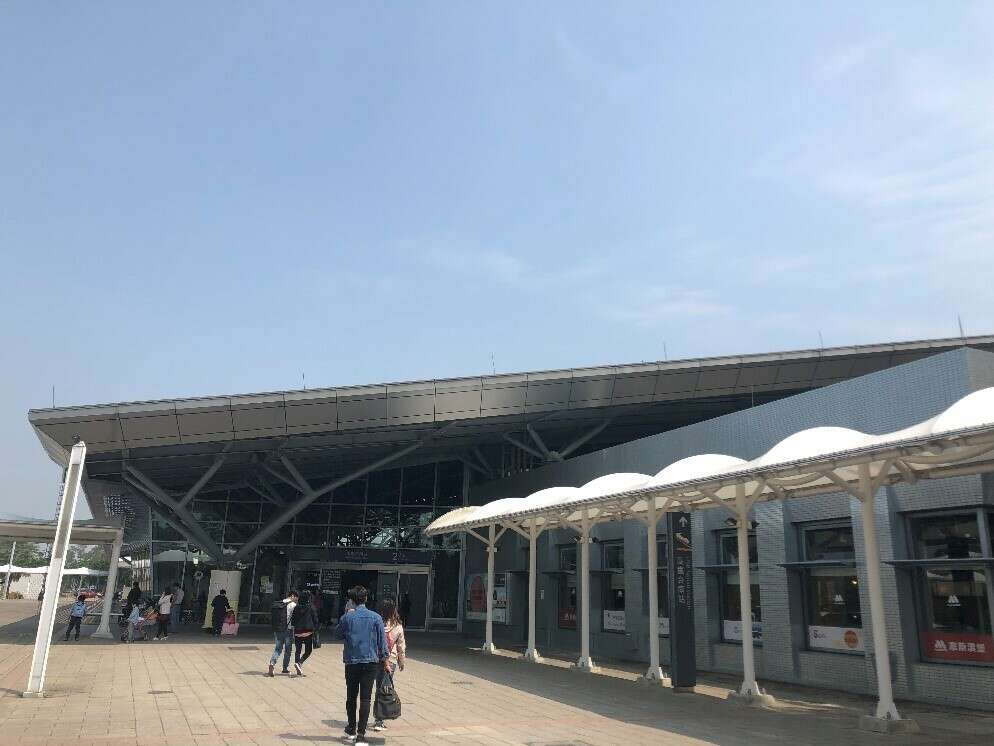 Exit no. 2 (Free shuttle bus stop)
Tourists come to Tainan can take the free shuttle heading for Tainan City Hall.
The interval of bus will be every 20-30 minutes, if the traffic is not too heavy, time to arrive downtown area of Tainan will be around 40-50 minutes. Hence, of course you have to remember to go to the toilet first before getting on the bus.
Better to confirm the location of your hotel in Tainan to be able to get off the bus at the nearest stop. I have asked the staff in the Visitors Center and he responded very kindly and specifically to me.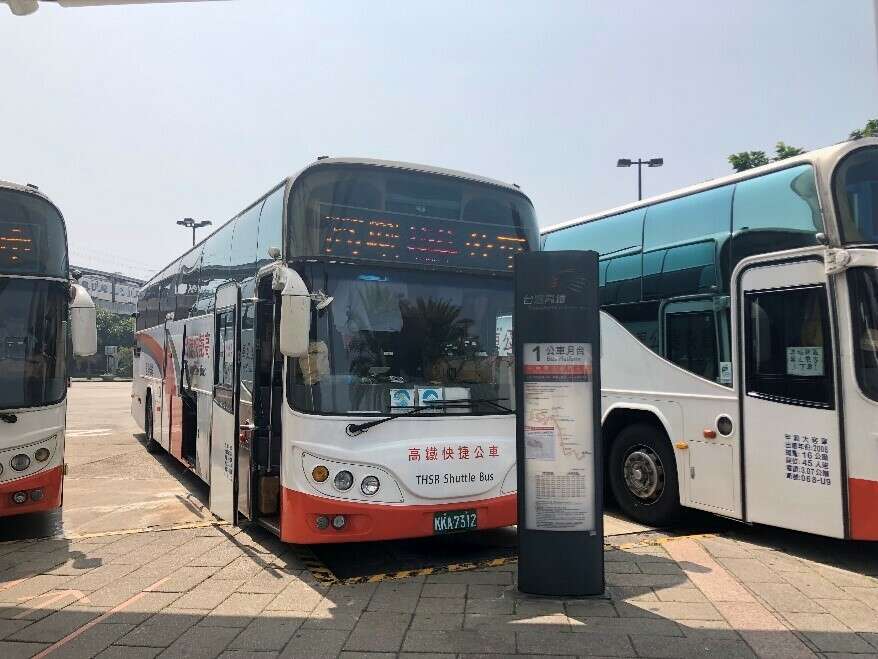 Free shuttle bus stop
(about 40-50 minutes to downtown)
Although the bus route map may look like not far away, however, after the bus passed Chi Mei Museum it will be running on the freeway.
So, you can see that the distance to downtown area is not very near, but if you are in a hurry and have to take a taxi, prent bear in mind that the taxi fare will not be cheap.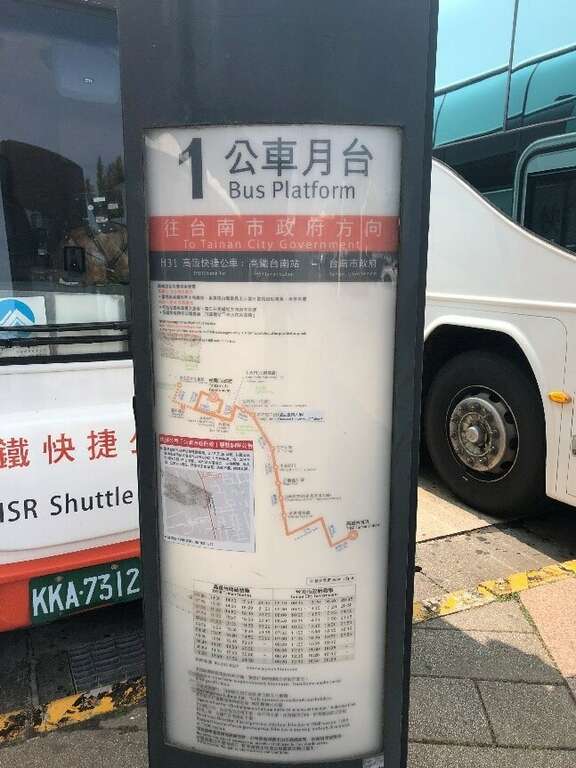 The route map to go to
Tainan
City Hall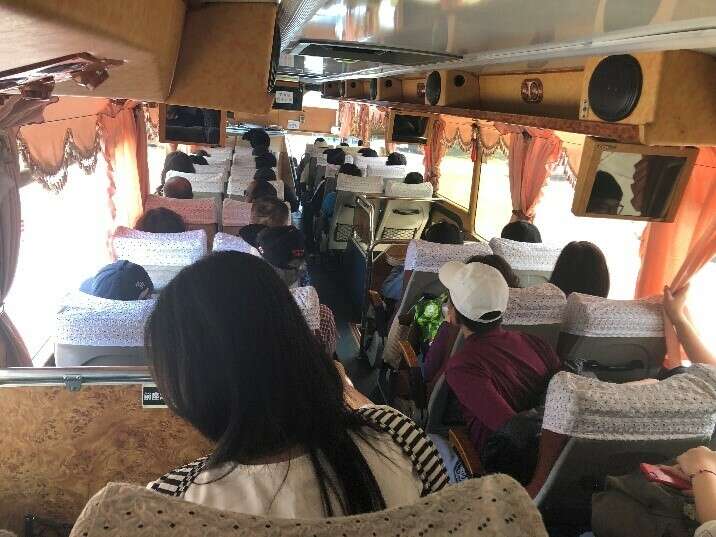 The interior of the free shuttle bus
One other option to reach downtown area from Tainan HSR station is by TRA train
It only cost 25NTD which is quite cheap. Though the interval of train arriving is not fixed, but the waiting time will be around every 20-30 minutes.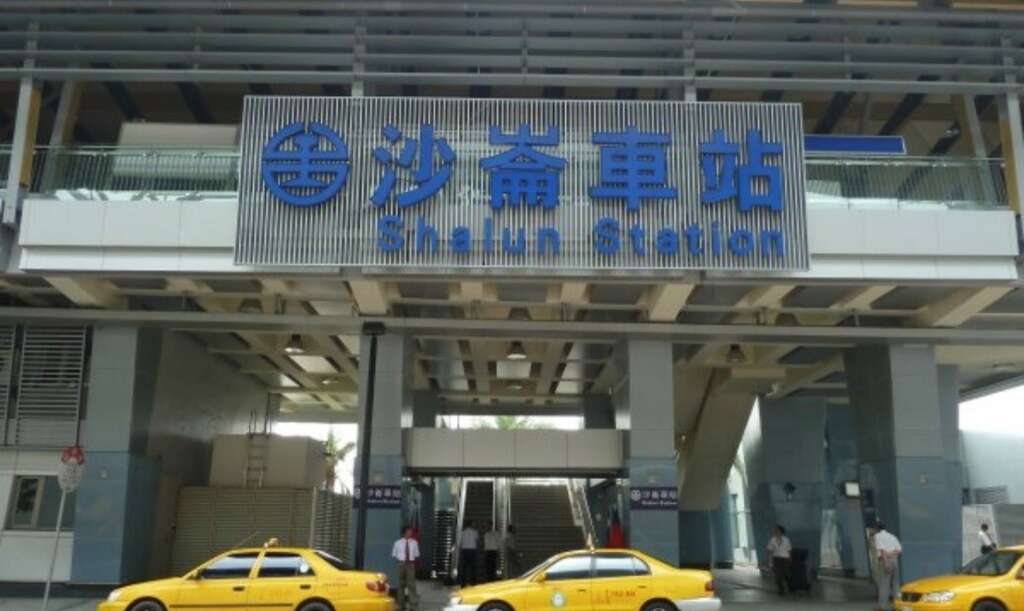 A full view of TRA Shalun Station
If you want to take the train, instead of coming from ticket gate Exit 2, prent follow the guiding instruction (the bluish green line on the floor)to go to the TRA Train Station -Shalun Station。
There is a long corridor connecting the TRA Train station with the HSR station
It wouldn't be inconvenient even if you are dragging a luggage.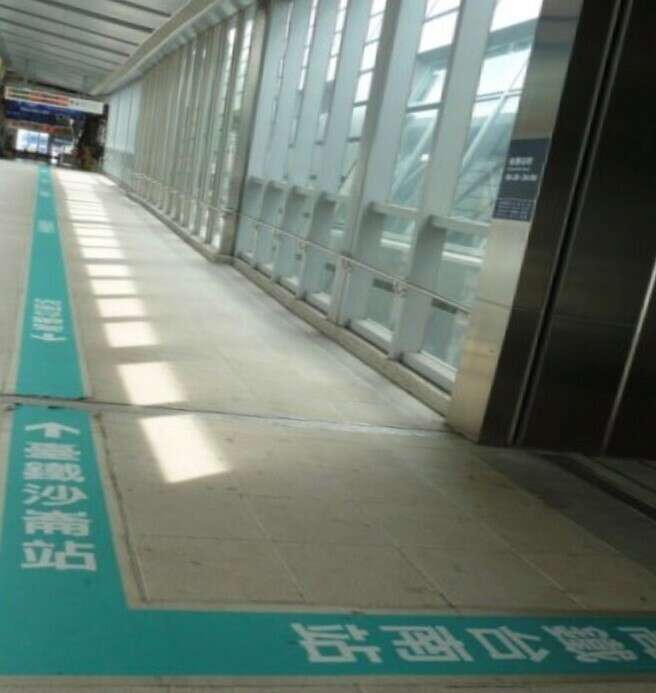 The guiding instruction on the floor
(Tainan HSR station -TRA
Salun station
)
It takes about 40 minutes by train to reach downtown Tainan
Just reverse the above-mentioned traveling road map
If you need to get to Tainan HSR station from downtown area.
---
2.Tainan public T-Bike rental system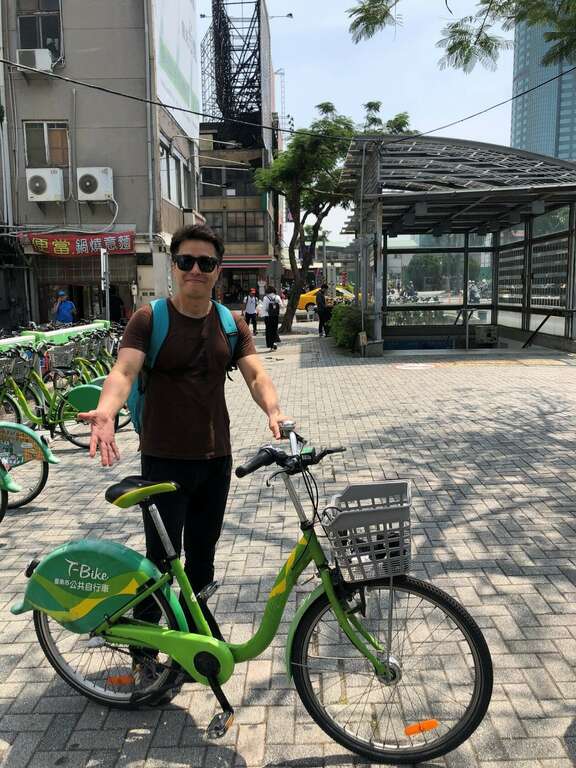 It is cheap and convenient
And this is a very popular way of transportation by the locals and tourists alike
I would recommend every visitor use T-Bike to see this serene and old retro city of Tainan.
The whole area of Tainan is a flat and level aground, therefore it is extremely suitable to stroll around downtown area by bicycle to go anywhere you like. If you wish to rent the T-Bike, you have to register at the terminal of T-Bike stand with the Taiwanese transportation card (Easy Card or I-Pass), after completed the registration, the first 30 minutes will be free of charge. And if you want to return the T-Bike you simply return it at any T-Bike stand. The actual rental fare is 10 TWD every 30 minutes almost the same as bus ticket.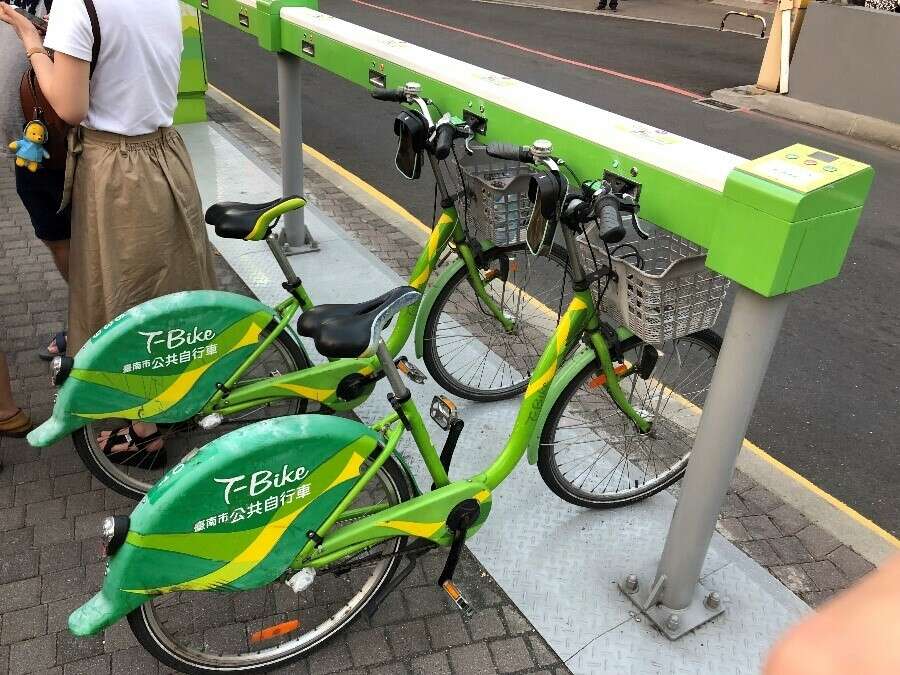 T-Bike of
Tainan
There are a lot of tourists around, maybe because today is the weekend.
In downtown Tainan, every time I saw a person riding the T-Bike like me,
I couldn't help myself but wave and say hello to them joyfully.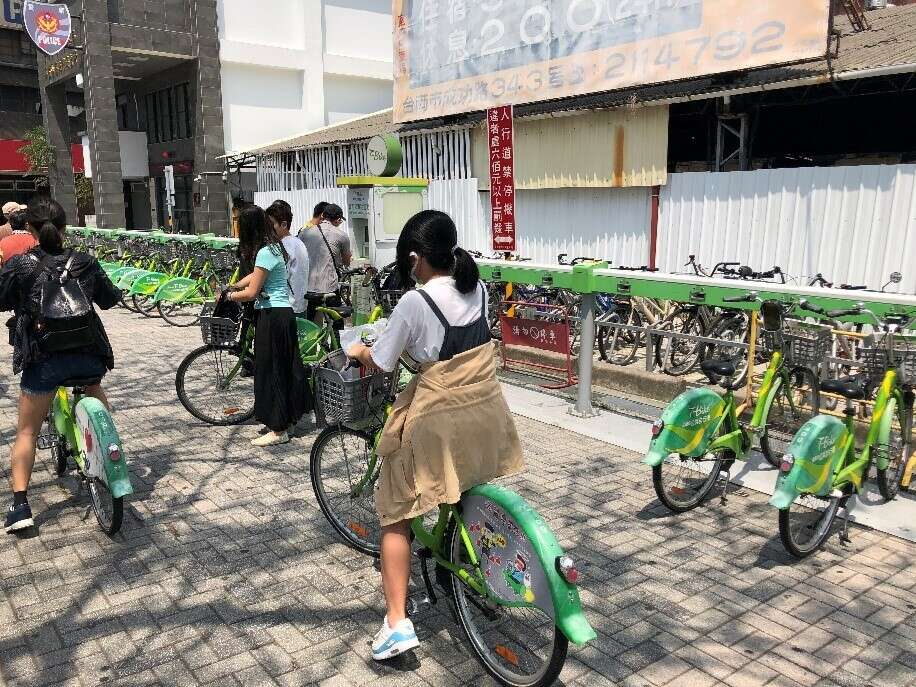 The T-Bike stand outside of Tainan Train Station
T-Bike
There is no backseat to take another person, it's only for one person.
Because safety is the first thing we have in mind!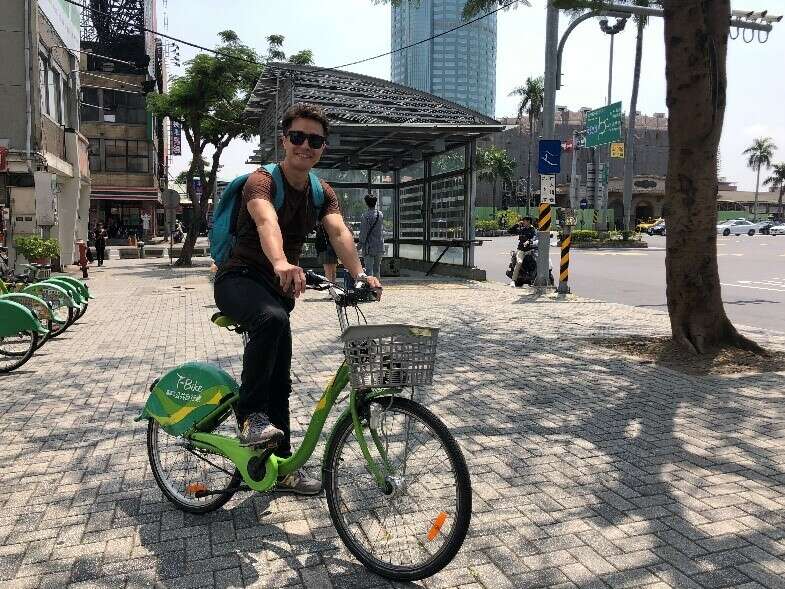 One bike for one person
(no backseat installed)
Don't hesitate, just ask any locals around you, how to rent a T-Bike!Persons who constantly use T-Bike are around age 20-39, therefore basic English communication should be no problem!
At first, I did not know how to rent the T-Bike too, so I asked someone nearby, and he came to the help and told me how to operate the terminal.
I just handed out my transportation card and said 'please ',then he soon came to the rescue. It seems that the locals are all very kind to the tourists from other country or even from other places of Taiwan.
---
3.Tainan City Tour Bus
Every major city in many countries has tour bus for tourists
There are city tour buses in Seoul, Busan and Daegu, Korea. There is no exception for Tainan, if you take the Tainan city tour bus you can see all the major sightseeing attractions in the downtown area in a day, and not only the foreign tourists, but Taiwanese tourist will also use the tour bus for sightseeing too.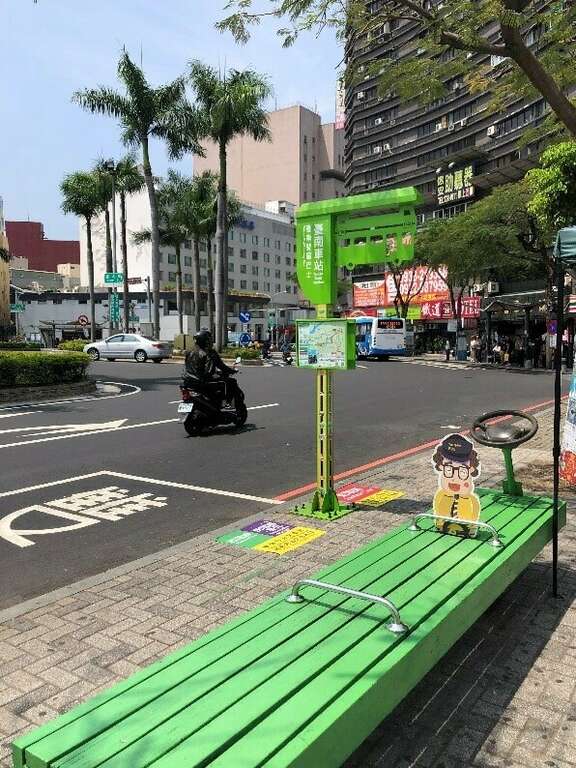 The bus stop for the Tainan downtown city tour
There are Western line(green)and Eastern Line(yellow)in the day time. And there is also a City night view line(purple)specially arranged for night owl tourist for night time tour in the downtown area. But if it is your first time to Tainan, I'd simply recommend to take the daytime western line bus.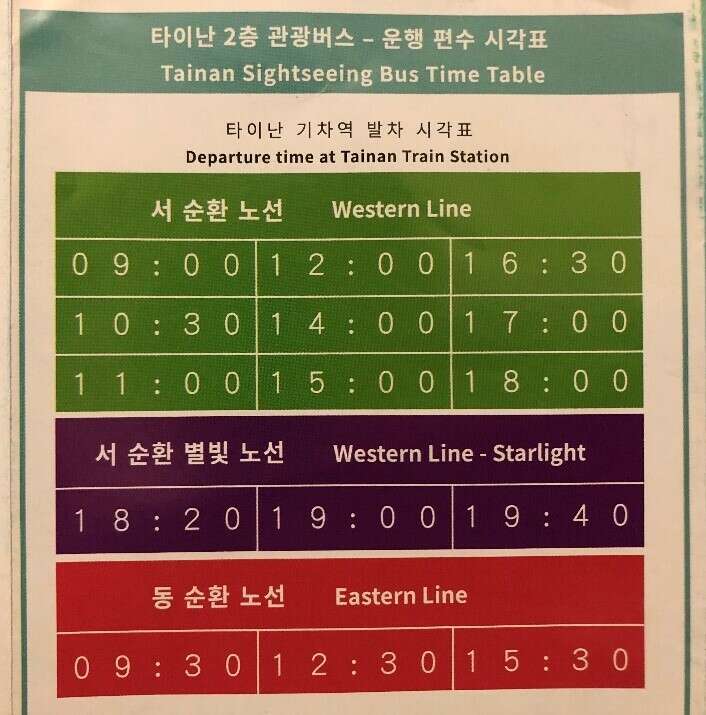 Tour bus schedule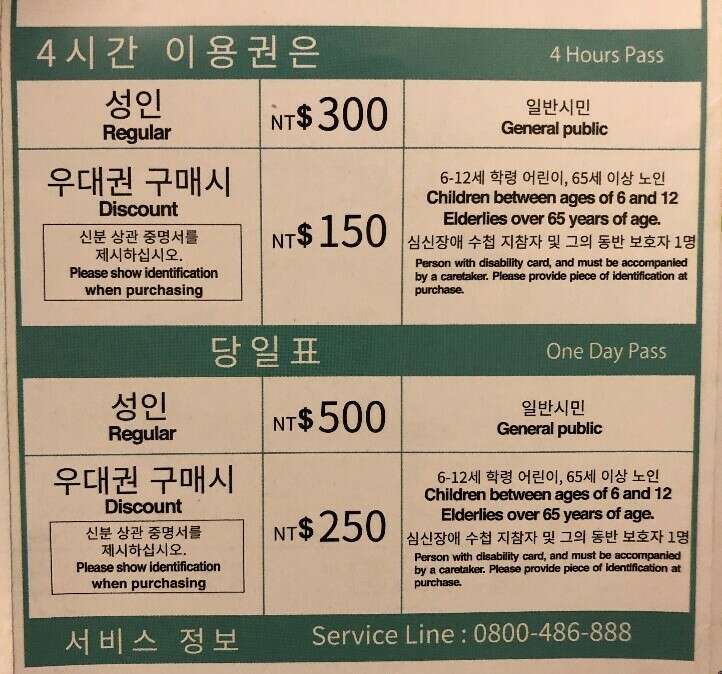 Bus fare
The location to take the Tainan city tour bus (in front of Tainan Train station )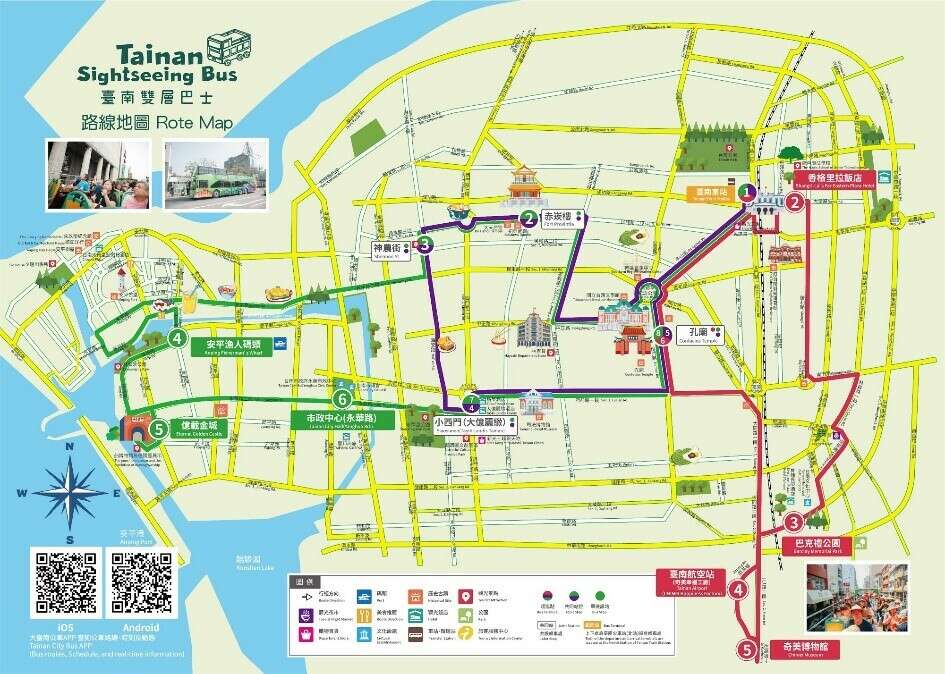 Route map of city tour bus
The bus and the bus stop for the city tour bus are all Green
It's easy to locate, right?
If you wish to do the sightseeing once and for all of the attraction of this nostalgic city of Tainan
I absolutely recommendthe city tour bus!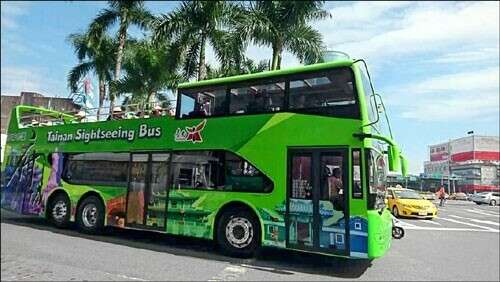 The appearance of the Tainan
city tour bus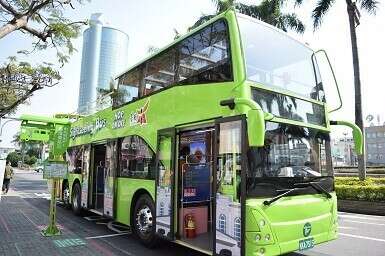 Bus stop of the Tainan
city tour bus