:::
Anchor
Tour of Religion, Fishery, and Salt Industry in Xibin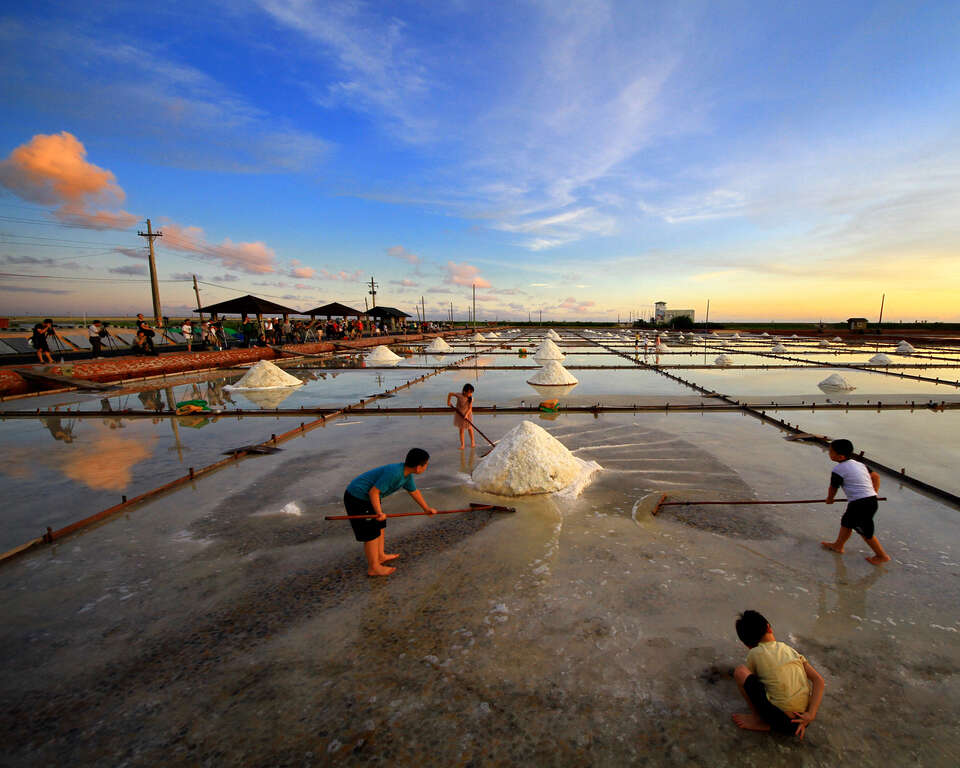 Introduction
As famous salt industrial towns in the old days, North Gate and the Qigu area in Tainan are the perfect attractions for an in-depth visit to the beautiful coastal landscapes, salt pans and religious cultural features along the west coastal line. Alternately, you can choose to learn about the fishery and salt industry as well as grand religious rituals at Taiwan Salt Museum, Qigu Salt Mountain, Nankunshen Daitian Temple and other scenic spots.
Tour Routes
:Sicao Green Tunnel→Taiwan Salt Museum→Qigu Salt Mountain→KNH Non-woven Fabric Tourism Factory→Nankunshen Daitian Temple→Beimen Visitor Center→Taiwan Black-foot Disease Socio-Medical Service Memorial House→Beimen Crystal Church→Jing Zhai Jiao Tile Paved Salt Fields
Taiwan Tourist Shuttle 61 The West Coast Expressway
Sicao Green Tunnel
The mangroves on both sides of the drainage channel nestled behind the Sicao Dazhong Temple, curve eccentrically, forming a natural green tunnel renowned as the "Little Amazon Forest". Replete with four different species: four-petaled mangrove, Kandelia, white-flowered black mangrove, and grey mangrove, this elegant environment is suitable for an ecological tube raft tour.
Tip: There are two tube raft routes: Taijiang route and Green Tunnel. To visit the Sicao mangrove beach-scape, please choose the Sicao Green Tunnel route.
Opening Hours:08:00-16:00
Raft schedule:
10:00 & 14:30, Monday to Friday
Rafts are available on Saturday and Sunday.
Tickets:
Full-price ticket: NT$200, Happy ticket: NT$30 (for children between 0-6 years old, and senior citizens over 80 years old).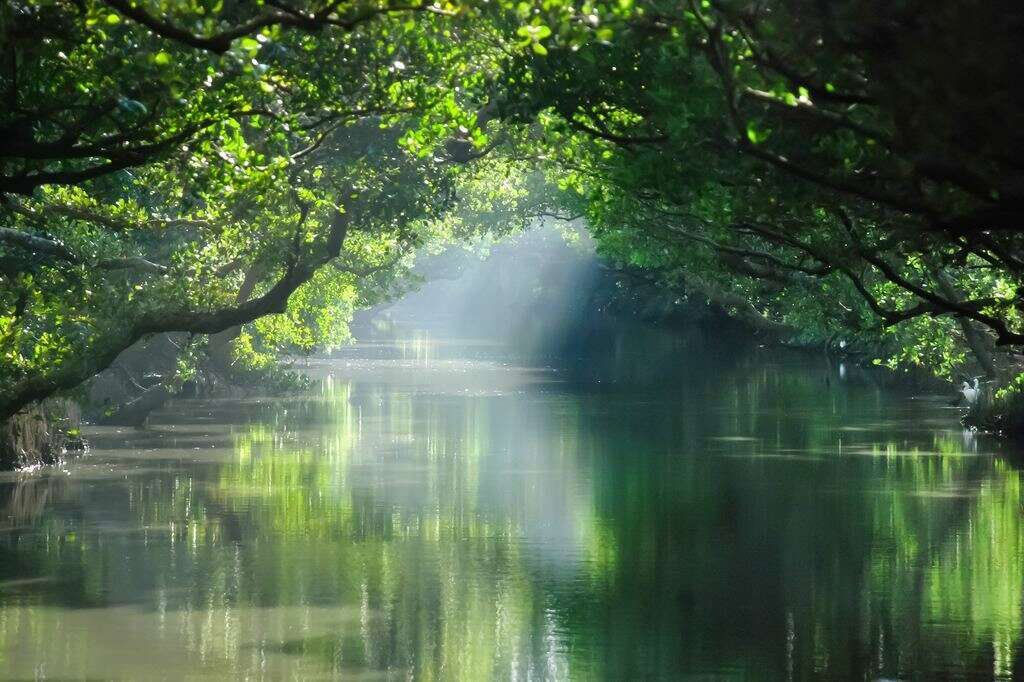 Taiwan Salt Museum
Facing opposite to the Qigu Salt Mountain, the white pyramid-shaped Taiwan Salt Museum is a museum with Taiwan's salt industry as its theme. It introduces the development of Taiwan's 300-year-old salt industry and historical materials. In addition to the wax figures representing the people working in the salt field, guided tours, DIY experience areas, and souvenirs are offered to show Taiwan's salt industry.
Opening Hours:9:00-17:00 (Closed on Wednesdays)
Tickets:
Full-price ticket: NT$130
Group ticket: NT$100 (20 people or more)
Half-price ticket: NT$50 (Children between 4-12 years old, senior citizens over 65 years old).
Documentary showing time: 10:30, 12:50, 14:50
Guided tour: 11:00, 13:00, 15:00
👉
Facebook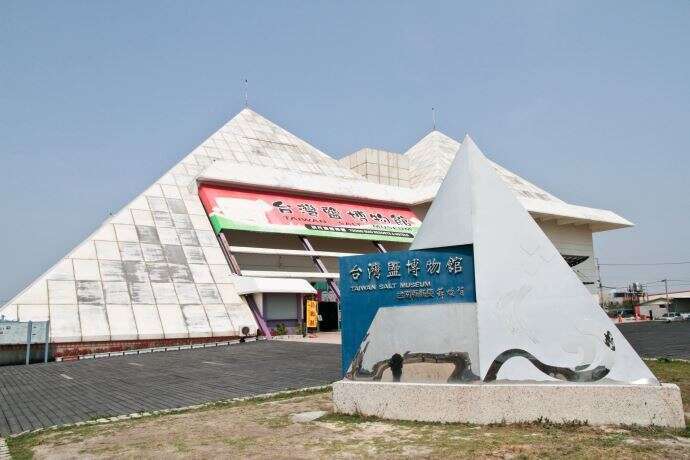 Qigu Salt Mountain
Tainan's salt industry spans over 3 centuries since General Koxinga, with Qigu Salt Field as the largest domestic agro-industrial supplier. It was later transformed into a tourism and recreational park due to the low economic profits of salt. The Main Peak and Northern Peak are the two existing salt mountains for souvenir photo-taking. Besides savoring salted popsicles and brine coffee, various experiences and recreations are also offered in the park.
Opening Hours:
Summer (March to October): 09:00-18:00
Winter (November to February): 08:30-17:30
Tickets:
NT$50 cleaning fee for each motorcycle, bike, and pedestrian
NT$100 cleaning fee for sedan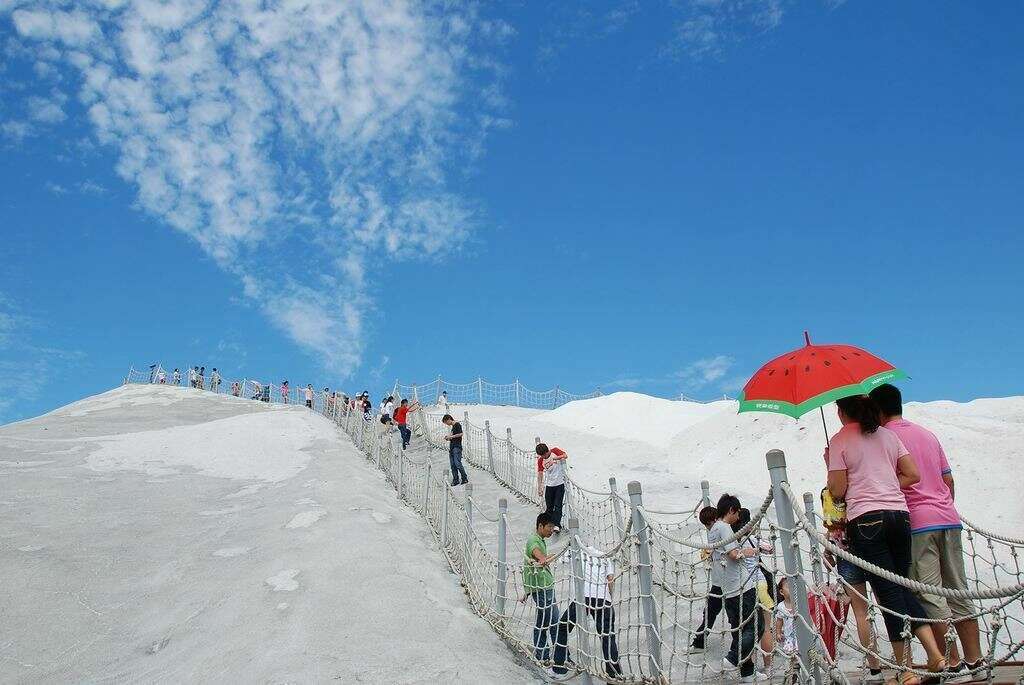 Nankunshen Daitian Temple
A 3-star attraction ranked by the Michelin Green Guide, Nankunshen Daitian Temple, built in 1662, is Taiwan's oldest Wang Ye Temple. Listed as a national historic site, it is also one of the largest-scale temples in Tainan. The Pingan Salt Ritual, with various bustling religious events and folk performances, is held around October and November each year at Nankunshen Daitian Temple. Tourists can take home unique Pingan Salt and personal experiences of Taiwan's traditional customs and culture.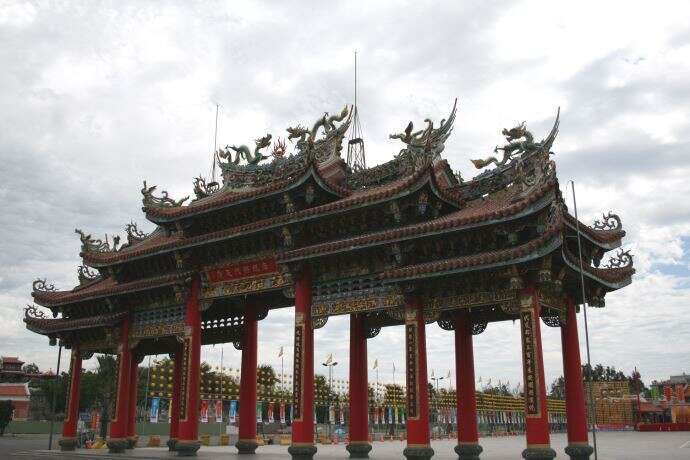 Beimen Visitor Center
In the olden days, the Beimen Visitor Center was a salt rinsing factory and warehouse. Today, it has transformed into a museum with "Salt Industry History", "Wetland Ecology" and "Religious Humanities" as its major themes. Your visit won't be complete without participating in the interactive games and watching documentaries, and seeing the local painter Hong Tong's paintings and painted walls, as well as various installation artworks from other artists.
Opening Hours:9:00-17:30
Taiwan Black-foot Disease Socio-Medical Service Memorial House
Decades ago, residents along the southwest coast suffered from the rampant black-foot disease caused by the arsenic element contained in the groundwater. Dr. Wang Jin-He generously offered free medical treatment at his self-owned Jinhe Clinic. This is the origin of Taiwan Black-foot Disease Socio-Medical Service Memorial House which became the first medical museum in Taiwan. The historical materials hoarded and exhibited here serve as memorial to the spirit of sacrifice and dedication of all the medical staff.
Opening Hours:
Thursday - Sunday: 10:00-16:00
(Closed from Monday to Wednesday)
In-depth group guided tours offered by reservation
Note: Closing day will be postponed to the following day when it coincides with a national holiday.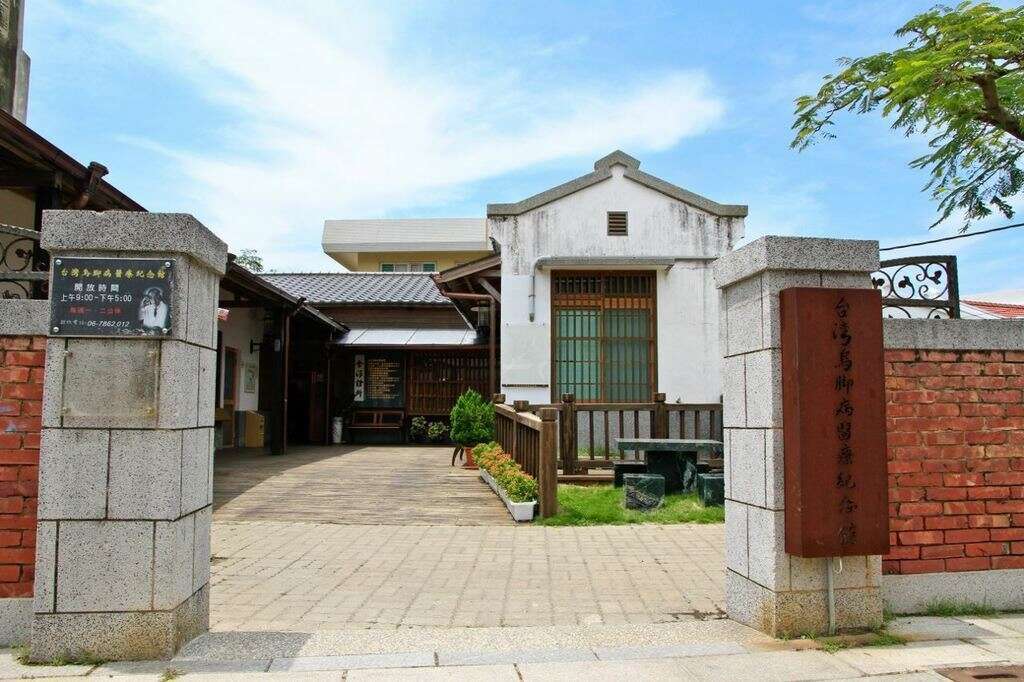 Beimen Crystal Church
Situated amid the scattered salt fields, the Beimen Crystal Church was designed with the crystal-clear white salt as its dominant color. The church was built to soothe the black foot patients and to express gratitude to the medical staff. Lighting activities are also arranged at night allowing visitors to appreciate the beauty of this unique church. The broad view encircling the Church offers comfortable resting and photo-taking spot for tourists, and a holy wedding photo-taking site for many newly wedded.
Opening Hours:
Monday - Friday: 09:00-17:30;
Saturday, Sunday and Public Holidays: 09:00-18:00
Lighting on holiday nights: 17:30-19:00
Tickets:NT$20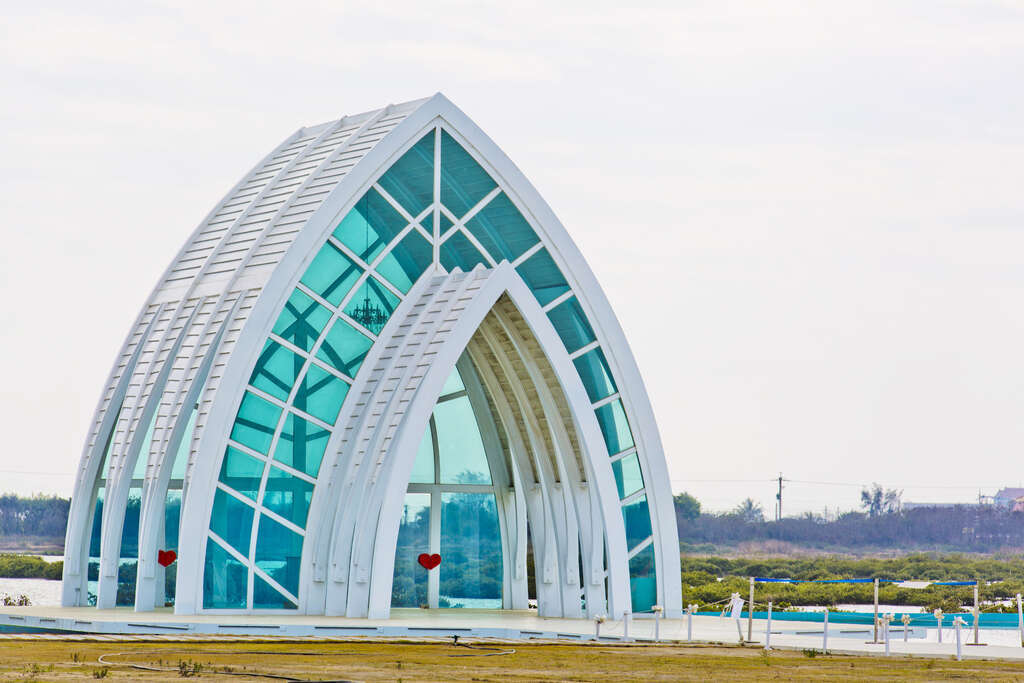 Jing Zhai Jiao Tile Paved Salt Fields
The more 200-year-old Jingzaijiao Tile-paved Salt Field is the first salt pan in the North Gate, and currently is the oldest Tile-paved Salt Field. Nowadays, besides bathing themselves in the azure sky and the yellowish orange sunset glow reflected by the frames of salt pan displaying picturesque art at dusk, visitors can also experience traditional salt drying, yoking and collecting, and gain an in-depth understanding of Tainan's traditional industries. Be sure to bring home with some salt-made souvenirs.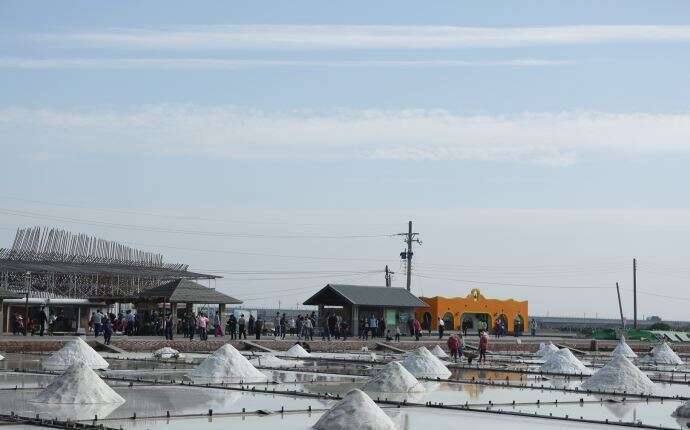 👉
Download Brochures