:::
Anchor
Old Houses, Old Shops, Old Times: City Walking Route

Information
Day 1 Days
Season All Seasons
Category Tainan Walking Tour、Culture and History
Introduction
Tainan was the first developed city in Taiwan and has preserved many precious historical and cultural relics. In recent years, traditional crafts and old houses have gained much attraction in Tainan. More and more tourists walk through the alleys to get a glimpse of Tainan's traditional ways of living. Come with us now to explore the meandering alleys of Tainan, see old houses, and experience the fun offered by this old city. Let's enjoy a day like a local by experiencing the elegant and slow atmosphere of this historical place and observing the wonderful local lifestyle.
Tour Routes
:Chuan Mei Theater→North Lane Sculptor: Lao De Wooden Sculptures→Fan Liao Ciyin Ting→Bao Mei Lou→Lot Drawing Alley→Jin Quan Cheng Grain Store→Chikanxi Residence→Xinmei Street→Hulu Alley→Aimen
Getting There
: Take Taiwan Tourist Shuttle 88 or 99 and get off at Chikan Tower Stop. After seeing Sacrificial Rites Martial Temple, walk around 5 minutes along Section 2, Yongfu Road next to the temple to reach Chuan Mei Theater, which will be the start of your adventure into the alleys of Tainan.

Chuan Mei Theater
Chuan Mei Theater sits opposite to Chikan Tower. It is an old second-run theater in Tainan. It is also the theater that once nurtured world-famous director Ang Lee. Presently, the theater still maintains rarely seen hand-painted posters. If you come here, you will see the painter sitting by the street to paint the extremely special Taiwanese-style movie posters, which is a must-see feature of the theater.
Opening Hours:
Monday - Friday: 12:30-23:00;
Saturday - Sunday: 10:30-23:00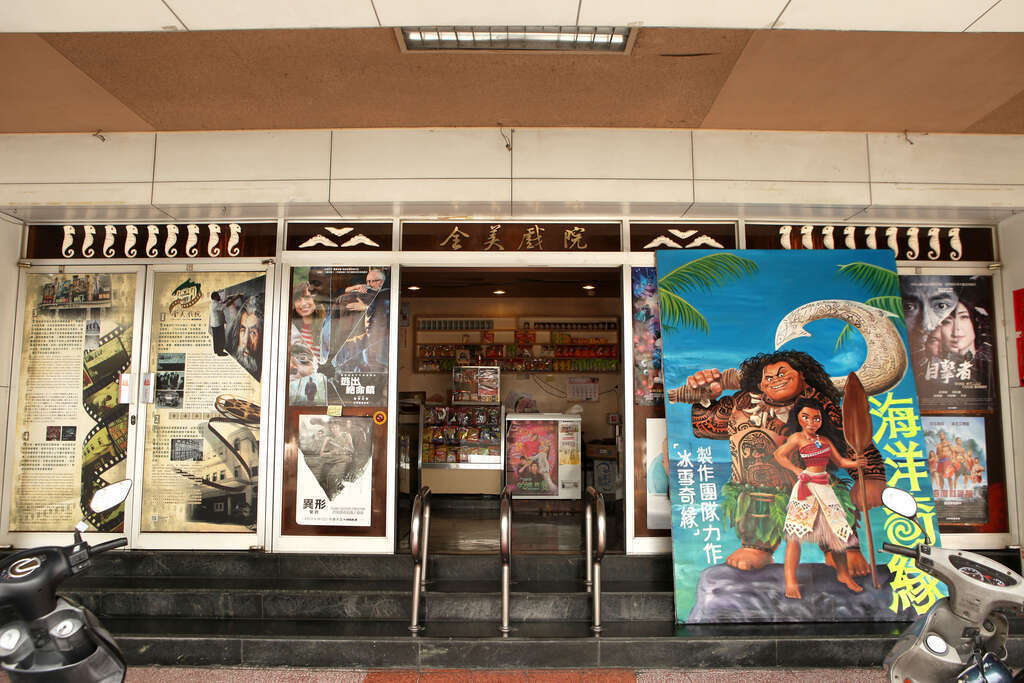 North Lane Sculptor: Lao De Wooden Sculptures
Not far from North Lane Old Street (Lane 132, Section 1, Ming Sheng Road) stands an old house with blue walls. This is Lao De Wooden Sculptures, a shop opened by a self-taught old sculptor. With brilliant craftsmanship, he uses ebony and stainless steel to make thumb-sized kitchen knives, cooking utensils, frying pans, and other commonly seen tools in Taiwan. The delicate miniatures attract tourists from across Taiwan and abroad. Get a mini-Taiwanese kitchen knife when you come here!
Opening Hours:09:00-19:00
👉
Facebook
Fan Liao Ciyin Ting
Built in 1717, the Temple is commonly known as Fan Liao Buddha Temple. As one of the three ancient Guanyin temples in Tainan, it has a long history. This small Temple used to be the religious center for sea crews of Fan Liao Harbor and neighboring residents. Having gone through the Qing dynasty and the Japanese rule period, the Temple was renovated after being bombarded during the second world war. A plaque from the Daoguang Era (1821-1850; Qing dynasty) is still kept in the Temple. Fan Liao Harbor has become land now, so the bustling harbor scene is no longer to be seen. However, the colorful wall paintings of sailing ships in the alleyways are evidence of past glory.
Opening Hours:06:00-21:00
Bao Mei Lou
Before 1970, Bao Mei Lou was an important place for socializing. A local saying goes: "There is a Jiang Shang Lou in the north and a Bao Mei Lou in the south," manifesting the prosperity in the past. Renovation of the building has reconstructed its original appearance during the Japanese rule period. It has now become a retro cafe with dim lights and chandeliers, with beams from the past, creating a nostalgic atmosphere. It is now one of the must-visit old house cafes for many tourists.
* Jiang Shang Lou was located in Dadaocheng, Taipei.
Opening Hours:08:00-00:00
Lot Drawing Alley
The century-old Kaiji Martial Temple is located on Xinmei Street. Since the deities are said to be efficacious here, many worshippers come to draw lots and ask about their fate. Also, many vendors gather along the street in front of the Temple, providing divination services for worshippers. Therefore, this street is called Lot Drawing Alley. Now, apart from shops selling candles for deities and joss paper, there are also shops transformed from various old houses, e.g., brunch shops and wooden clog shops, waiting to be explored.
Jin Quan Cheng Grain Store
Located in Ximen Roundabout, Jin Quan Cheng Grain Store was founded in 1908. It is an old local store that has preserved its original baroque-style exterior. The bullet holes in the red brick walls are evidence of the second world war. The store itself is decorated with objects rare in the present day, such as an abacus and old wall clock, as if the store were frozen in the past. When passing by this place, you can stop to appreciate this properly preserved historical building or visit the nearby old shops to experience the fun of exploring old houses in Tainan.
Opening Hours:08:30-18:30
Closed on Sundays
Chikanxi Residence
Chikanxi Residence used to be home to the wealthy Hung Family, who ran a leather business in East Asia. The former owners, the Hung brothers, made the old Japanese-style building into a Western-style building with both Japanese and Western elements next to the theater so that their mother, whose feet were bound, could easily go to the theater. Now the old house has been rejuvenated and changed into a vegetarian restaurant and homestay. The appearance has been kept intact; inside the restaurant, you can still see the well-preserved old architecture features, e.g., wooden windows, hallways, and window grilles, making the house a must-visit attraction.
Opening Hours:15:00-21:00
Hulu Alley
Welcome to the three-Michelin-starred attraction: Tainan Grand Mazu Temple! Apart from visiting this Temple that is more than 300 years old, you can also check out the small alley next to the Temple. The alley provided the inspiration for Yeh Shih-Tao, a writer of Taiwanese contemporary literature, for his work Lustful Dreams in Hulu Alley. In the story, the Hulu Alley presents the lives of the average people in the 1950s; it was a unique urban space that is messy, putrid, and reeking of lust. Now, the narrow alley is tidy and bright. The Temple court connecting the Grand Mazu Temple and Sacrificial Rites Martial Temple looks completely different from what is depicted in the story. It is a great place for searching out old shops.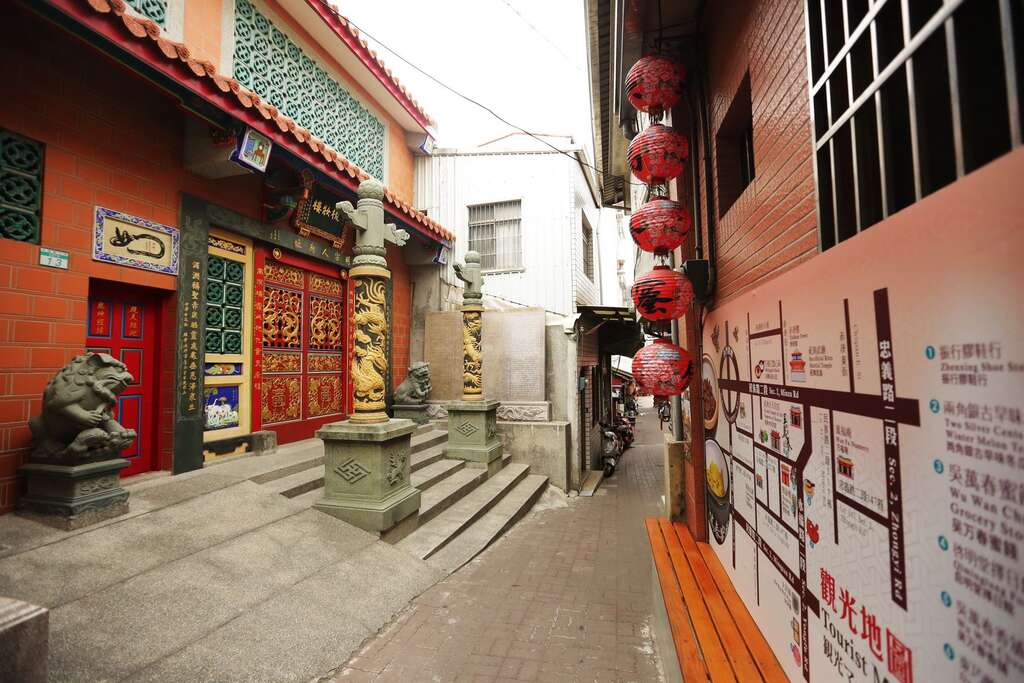 Aimen
Nearby the Hulu Alley, there is a historic landmark from the Qing dynasty, Aimen. Aimen used to be an anti-theft construction and is now a hundred years old. This attraction is also one of the few Aimen left in Tainan.
👉
Check the recommended routes on the map
👉Want to know what are on the other route?
See the Historic City Tour: Chikan Route
👉
Download Brochures
👉
Recommendations of English-speaking tour guides in Tainan